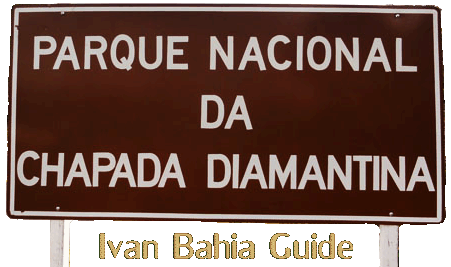 You have little time in Brazil ?
View the best of Chapada Diamantina in 1 day.
This is a 1-day-trip that is made for those who have very little time, to visit Brazil but nontheless want to see it all.
Ivan Bahia Guide will gladly take you to Chapada Diamantina for 1 day (or more days, if you would wish so).

Considering Chapada Diamantina National Park is a 1,520 km² national park is about 430 kilometers West of Salvador we will let you enjoy the best in this EXCLUSIVE 1-day express-trip.

There are many, many places to be visited in this amazing Park but we have made an attractive selection for you, including some amazing waterfalls (like the Poço do Diabo, Primaveira falls), a visit in Lençois (where we will have lunch), and of corse the most impressive spot of the Brazilian Grand Canyon which is the famous Morro de Pai Inaçio mount ... yes, you will be on top (1.164m) of it.

As there is quite some mileage involved, we will be leaving Salvador very early in the morning (pickup at your hotel at 5.00pm sharp) and return pretty late (return to your hotel around 11.00pm).
We always make a trip as comfortable as possible (a little pillow always is handy, to take a nap in the car) and let you enjoy a regular 'pitstop' whenever needed.


As demand is large for this daytrip,
AND since we seem te be the only tourist agency offering Chapada Diamantina in a flash, we strongly suggest you contact us NOW to check our availability via :


For those people who do have some more time remember we have a lot more to offer you in Chapada Diamantina.
We suggest you visit our Chapada trip page, or the various trekiing possibilityes at the
trekkings page
.
You could also have a look at some mouthwatering pictures of the National Park
HERE
and see the best you could find in Chapada Diamantina.